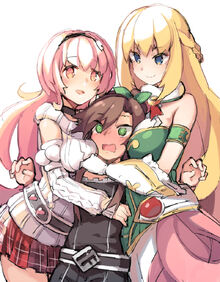 About Me
I'm Rachelle, some random lesbian out on the internet who loves collecting yuri and drawing yuri. My yuri collection is over 20,000 and growing. My girlfriend, Makayla is adorable and I love her dearly. I was born in England, but I now live in Australia.
When it comes to writing, I generally have a very good grasp on grammar and English in general and I tend to get A's for English at school.
If you want to get in contact with me via a more reliable method, I'm active on discord, my username is RachelleDraws#4048. I tend to be on between 3:30 pm to 9:00 pm. (GMT+10) Keep in mind that as I live in Australia my time zones are different from Europe or North America.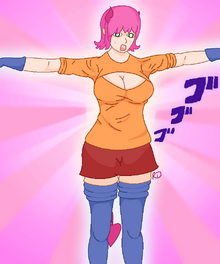 I also love to draw (As is obvious by my username). Recently I'm getting into digital art. To the right is a little something I drew recently of a friend's OC. I specialise in drawing girls with large busts. Please don't ask me to draw lewd stuff, I don't want to. Me drawing sexy girls doesn't mean that I'll draw lewd girls.
My Yuri Interests
Mangas
I tend to be drawn to more wholesome, cute yuri. Stuff like All of Humanity is Yuri Except for Me, Like a Snowfall in Spring and Mage & Demon Queen in addition to rather short, one-off mangas, such as About a Fussy Girl's Yuri, which is my favourite one-off manga by a decent margin. It's super precious and I love it. I'm also fine with cute stuff with light amounts of lewdness, such as Futakaku Kankei, Sakura Trick (Manga, not Anime) and Bright and Cheery Amnesia, the first of which I am in love with. Asagiri is an S tier lesbian and I support her in everything that she does. I avoid lewder stuff, although there are a few exceptions, such as in the case with Swap⇔Swap, which has fanservice but isn't always lewd. Of course, this means no hentai. I like cute stuff that makes me squee, not lewd stuff.
My favourite pages
To Do List:
Also known as pages I want to be added.
Character Pages

Donut

(Lily Love)

Mew

(Lily Love)

Lily

(All of Humanity is Yuri Except For Me)
Along with basically all the prominent characters in All of Humanity is Yuri Except For Me. They're all yuri.

Karin

(About a Fussy Girl's Yuri)

Series Pages

All of Humanity is Yuri Except Me

Lily Love

Futakaku Kankei

A Kiss and a White Lily